Asymmetric Led Linear Light 40W, 40x67mm
Asymmetric Wall-washing Led Linear Light 40W, or asymmetric Led Wall Wash light 40W, 40x67mm, Suspended/Surface-mounted, Model No.: 104067P, is an efficient linear lighting product providing state-of-the-art wall-washing-effect solutions for commercial & retail sectors. It takes advantage of advanced optical lens and emitts asymmetric lights in a continuous line. With differnt lengths of aluminium profiles from 570mm to 3090mm per piece, it gives great flexibility & versatility in light planning.  (Note: Customized lengths need be made in factory prior to shipping.)

This asymmetric wall-washing led linear light, adopting PMMA prismatic optical lens, delivers asymmetric lights at 20° angle to the vertical direction, which resembles wall-washing effect. It can be wall-mounted as a decorative lighting on the hallways or corridors. Meanwhile, it offers a new solution for picture lighting where uniformed & dark-spot-free lights is wanted , especially those hanged big paintings or arts in art gallerie.
On 990mm length this asymmetric linear light delivers 4200lm luminous flux while consuming only 40W power, which maintains a very high luminous efficacy, about 105lm/Watt. With coordinated mounting accessories, this linear wall wash light can be either suspended or surface-mounted, no matter it's a ceiling or a wall.

Equipped with high-quality Leds on PCBA & external driver, this indoor linear light maintains less than 10% light attenuation after 50,000 working hours.  Adopting latest Led technology, it's eco-friendly and energy-saving comparing traditional incandescent lights or fluorescent lights.

Besides this we still offer other sizes & kinds of Led Linear lights, please feel free to consult our sales if you have any specific demand.

Product Features
Asymmetric wall-washing light effect thanks to advanced prismatic optical lens

Adjustable light lengths from 570mm to 3090mm per single piece (140mm for exceptional segement), giving great flexibility in light planning

Less than 10% light attenuation after 50,000 working hours thanks to high-quality LEDs on the PCBA and built-in driver


Up to 105lm/Watt luminous efficacy


Excellent heat sink performance with high-quality extruded aluminium profile


0-10V dimmable version & DALI dimmable version available


 Suspended/Wall-mounted/Ceiling-mounted optional with coordinated mounting accessories


Eco-friendly without toxic materials, energy saving
Specification
Model No.:                    104067P

Product:                         Asymmetric wall-washing Led Linear light 40x67mm, Suspended/Surface-mounted

Dimension:                   990*40*67mm (

Note: Other lengths are available at requests. 140mm for exceptional segment.

)

Power:                           40W

Input Voltage:              100-240V AC

Luminous flux:                4200lm

Luminous efficacy:          105lm/W

Beam Angle:                  47.8°  (20° from the vertical direction)


CRI:                                 Ra>80

UGR:                               <19

SDCM:                            3 steps

CCT:                                3000K/4000K/6000K

IP grade:                         IP20

Light source:                   SMD3030 LEDs


LED quantity:                   168LEDs

Housing color:                  White/Black

Mounting:                        Suspended/Ceiling mounted/Wall mounted

Dimmability:                    0-10V dimmable, DALI dimmable (at separate request)


Lifespan:                         50,000 hours

Working temperature:      -25℃ ~ 55℃

Warranty:                       3 years
Product Drawing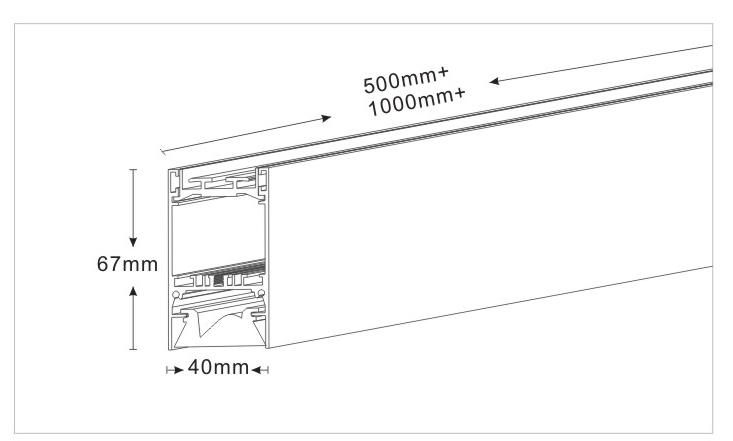 Notes:
 Lengths of this asymmetric wall-washing Led Linear Light 104067P can be changed per different lengths of aluminium profiles,  up to 3090m per single piece (±140mm for 1 segment less or more), which is very good choice for big open plan places.
 Different pieces of asymmetric Led Linear lights can be seamlessly connected with each other. In other words, it can be extended infinitely.
Illuminance Distribution

Model no.: 10067P, Asymmetric Led Linear light or asymmetric Led wall wash light, 40x67mm, 40W/990mm, has 47.8° beam angle (20° from the vertical direction), and max. 277.9lux at 3m distance, or max. 100lux at 5m distance.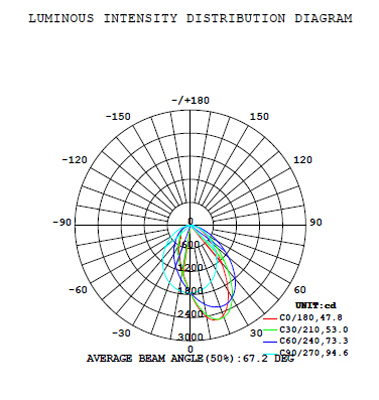 Below are luminance simulations of asymmetric linear light 104067P/D, in which lights are spreads mainly on the side wall even it's installed on the ceiling vertically.
Installation

The installation of Model no.: 104067P/D, Asymmetric Led Linear light or asymmetric Led wall wash light, 40x67mm, 40W/990mm, can be Suspended, Ceiling-mounted, or Wall-mounted, with proper mounting accessories.