Led Linear Light 104932, 30W, 49x32mm, trimless
Led Linear Light 30W, 49x32mm, Suspended/pendant, or Surface-mounted, Model No.: 104932, is an efficient & versatile linear lighting product providing intelligent & state-of-the-art solutions for commercial & residential sectors. It features homogeneous & no-glare lights in a continuous row with flexible lengths, from 810mm to 3230mm every single piece, which gives great flexibility & versatility in light planning.  (Note: Customized lengths need be made in factory prior to shipping.)

This indoor led linear light, or rigid aluminium strip light,  has 110° wide beam angle, 2400lm luminous flux for 1010mm length and 49mm wide illuminating surface, which is ideal general lighting for infinite open plan spaces, such as corridors, hallways, lobbies, museums, exhibition halls, shops, offices, meeting rooms …etc. With proper mounting accessories, this linear light can be either suspended/pendant on the ceiling, or surface-mounted onto a ceiling or a wall. There is no difficulty in installation or transportation.  
Equipped with high-quality Leds & external driver, this indoor light maintains less than 10% light attenuation after 50,000 working hours.  Adopting latest Led technology, it's eco-friendly and energy-saving comparing traditional incandescent lights or fluorescent lights.

Besides this suspened/surface-mounted led linear lights, we still offer other sizes & specs of Led Linear lights, please feel free to consult our sales if you have any specific demand.

Product Features
Low UGR & homogeneous lights over the whole continuous-run of linear lights

Adjustable light lengths from 810mm to 3230mm every single piece, catering for individual demands in diversified projects

High quality and long lifespan, with less than 10% light attenuation after 50,000 working hours

Three mounting methods available for this rigid led linear light, Suspended/pendant, Ceiling-mounted, Wall-mounted optional


Green lighting product with low energy consumption and without toxic materials
Specification
Model No.:                    104932

Product:                         Led Linear light 49x32mm, Suspended/pendant, or Surface-mounted

Dimension:                   1010*49*32mm (

Note: Other lengths are available at requests.

)

Power:                           30W

Input Voltage:                 24V DC

Luminous flux:                2400lm

Luminous efficacy:          80lm/W

Beam Angle:                  110°

CRI:                                 Ra>80

UGR:                               <19

SDCM:                            4 steps

CCT:                                4000K

IP grade:                         IP20

Light source:                    SMD2835

LED quantity:                   280LEDs

Housing color:                  White/Black

Mounting:                        Suspended/pendant, Ceiling mounted,Wall mounted

Dimmability:                    Non-dimmable

Lifespan:                         50,000 hours

Working temperature:      -25℃ ~ 55℃

Warranty:                       3 years
Product Drawing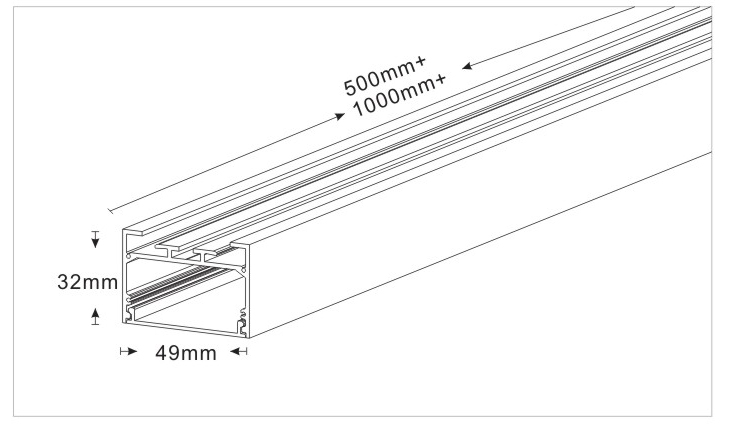 Notes:
 Lengths of this suspended/pendant or surface-mountedLed Linear Light 104932 can be changed or adjusted with different lengths of aluminium profiles,  up to 3230m per single piece, which is very good choice for big open plan places.
 Different pieces of Led Linear lights can be seamlessly connected with each other. In other words, it can be extended infinitely.
Illuminance Distribution

Model no.: 104932,  Suspended/pendant or surface-mounted Led Linear light 49x32mm, 30W/1010mm, has 110° beam angle, and 78lux at 3m distance, or 28lux at 5m distance.
Installation

Model no.: 104932, Led Linear light 49x32mm, 30W/1010mm, can be Suspended/pendant, or Ceiling-mounted, or Wall-mounted, with proper mounting accessories.