Direct/indirect Led Linear Light 54W , 40x110mm
Direct/Indirect Led Linear Light 1040110U, 54W, 40x110mm, Suspended/Surface-mounted, Model No.: 1040110U, is a special linear lighting product delivering both direct and indirect lights in targeted areas, which gives a state-of-the-art solution for commercial & office sectors. It incorporates two PCB boards on two sides of the lights, delivering glare-free soft lights on two directions over a continuous run of line. The light length is flexible with different aluminium profiles, from 850mm to 3090mm per piece, which gives great flexibility & versatility in light planning.  (Note: Customized lengths need be made in factory prior to shipping.)

This direct/indirect Led linear light, adopting modular LED PCBA & high-quality built-in Led driver, maintains less than 10% light attenuation after 50,000 working hours.  It can be suspended to deliver lights on both upper and lower directions , or wall-mounted like a wall sconce washing the wall on both directions with prismatic lenses. Thanks to latest Led technology, it's eco-friendly and energy-saving comparing with traditional incandescent lights or fluorescent lights.

Besides this direct/indirect light we still offer other sizes & kinds of Led Linear lights, please feel free to consult our sales if you have any specific demand.

Product Features
Direct/indirect lighting on lower direction and upper direction

Homogeneous and glare-free lights over the whole run of the lines or shapes

Adjustable light lengths from 850mm to 3090mm per single piece (with steps of 140mm), fit for individual project demands


Wall-washing effect optional with prismatic lenses


Less than 10% light attenuation after 50,000 working hours thanks to high-quality LEDs on the PCBA and built-in Led driver


Excellent heat sink performance with high-quality extruded aluminium profile


Suspended/Wall-mounted/Ceiling-mounted optional with coordinated mounting accessories


Eco-friendly without toxic materials, energy saving
Specification
Model No.:                    1040110U

Product:                         Direct/indirect Linear light 54W, 40x110mm, Suspended/Surface-mounted

Dimension:                   990*40*110mm (

Note: Other lengths are available at requests.)

Power:                           54W

Input Voltage:              100-240V AC

Luminous flux:               2247lm

Luminous efficacy:          42lm/W

Beam Angle:                  N/A


CRI:                                 Ra>80

UGR:                               <19

SDCM:                            6 steps

CCT:                                3000K/4000K

IP grade:                         IP20

Light source:                   Samsung SMD5630 LEDs


LED quantity:                   156LEDs

Housing color:                  White/Black

Mounting:                        Suspended/Ceiling mounted/Wall mounted

Dimmability:                    0-10V dimmable, or Dali dimmable (optional at request)


Lifespan:                         50,000 hours

Working temperature:      -25℃ ~ 55℃

Warranty:                       3 years
Product Drawing

Notes:
Lengths of this direct/indirect Led Linear Light can be changed per different lengths of aluminium profiles, by steps of 140mm, up to 3090m per single piece, which is very good choice for big open plan places.
Illuminance Distribution

Model no.: 1040110U,  direct/indirect Led Linear light, 40x110mm, 54W/990mm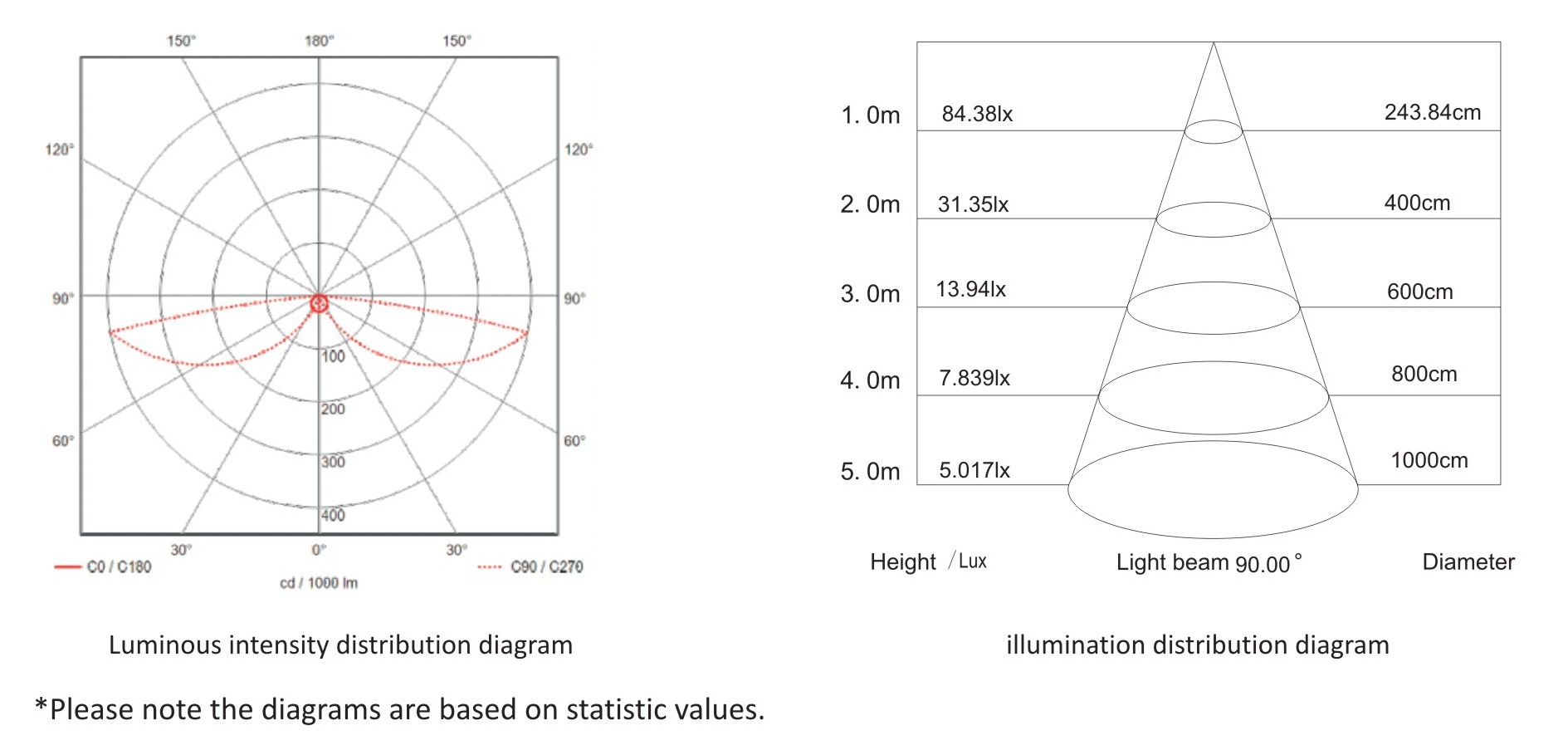 Installation

The installation of Model no.: 1040110U, direct/indirect Led Linear light, 40x110mm, 54W/990mm, can be Suspended, surface-mounted, with proper mounting accessories.